Hi Readers!
We hope all the fathers had a happy Father's Day. I celebrated it by getting more page time for my favorite father, my Papa, Sarn. I'm not sure he appreciated that gift because it means more of all the things that drive him crazy, but I'll work him. One day, he'll see more page time is good for us. (This is Ran, his son, and I want all the page time!)
A lot happened this week outside of Father's Day, so let's jump right in, so we can get back to our preview. I've already got the popcorn popping. 🙂
What did we do?
We released the FULL audiobook for Curse Breaker Enchanted on YouTube! The platform has rules, so we had to break Curse Breaker Enchanted the audiobook video edition into two parts, and it's weird seeing it as two videos. But we gotta do what we gotta do, and this was the only way to get the whole thing onto YouTube.
This is something we've been trying to do for a while, and I'm happy to report we found a way. You can watch (listen to because there are no visuals) part one here and part 2 here.
Also, all the mp3s from our AI-narrated audiobook for Curse Breaker Enchanted are on our Patreon for all supporters to download.
But wait, there's more!
My aunt, Sovvan, is part of a humorous fantasy bundle on StoryBundle.com!
What's in it?
Books that'll make you laugh so hard, dragons will come out your nose. The books in this bundle include: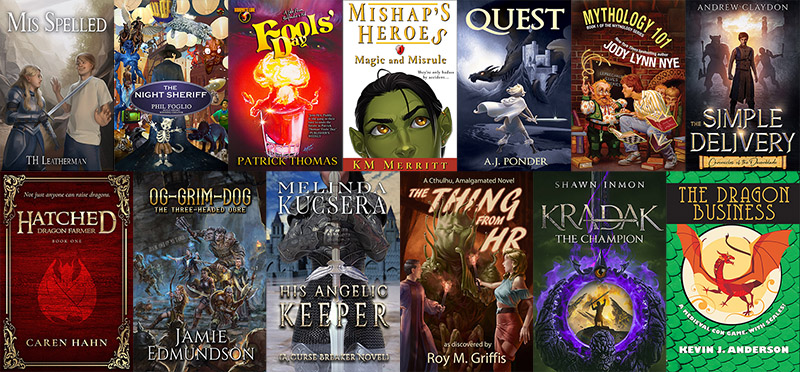 Mis Spelled by TH Leatherman
The Night Sheriff by Phil Foglio
Fools' Day by Patrick Thomas
Magic and Misrule by KM Merritt
The Dragon Business by Kevin J. Anderson
Mythology 101 by Jody Lynn Nye
Kradak the Champion by Shawn Inmon
The Thing from HR by Roy M. Griffis
His Angelic Keeper by Melinda Kucsera
Og-Grim-Dog by Jamie Edmundson
Hatched – Dragon Farmer Book One by Caren Hahn
The Simple Delivery by Andrew Claydon
Quest by A.J. Ponder
These books are amusing enough to put a smile on even the surliest orc's face, and you can name your price for the whole bundle, and a part of the proceeds goes to benefit the Challenger Learning Centers for Space Science Education.
This humorous fantasy bundle is available only for a limited time at www.storybundle.com/fantasy. Get them now!
(I already grabbed the bundle for our Scribe. When she finishes a few more books, I might let her read it. Maybe. I haven't decided yet.)
So that's what your favorite characters have been doing this week.
Actually, that's not all the things we did, but we need to get back to our preview of Curse Breaker Trapped because it's coming out on July 7th. The final edits should arrive today! So exciting!
As soon as it comes, we'll fix what needs fixing and finalize the book, so we can send it to our supporters on Patreon, hold a presale on our website, and put together the paperback. Exciting times! And now, back to our preview!
Curse Breaker Trapped
by Melinda Kucsera
The Demon at the Door (Chapter 2)
(Read Part 1, Part 2, Part 3 of this preview)
How do I get inside? Straymos punched the door, but Mosel pulled his arm back, and he missed.
You can't. Find somewhere to wait. He has to leave eventually. Wait for him out here. Mosel was right, but it stung.
Straymos rubbed his throbbing shoulder and backed away from the door that had defeated him. "Does he know I tried to break it down?"
I don't know. Hide behind that statue in case he does. Mosel turned their body away from the door, then receded back to the passenger seat in their mind, leaving Straymos in control of their body.
Yes, that statue of a mounted archer would work. Straymos ducked behind it. He didn't need to wait long before the door opened to let a man in a blue uniform exit. He strode past Straymos and kept going. Who the hell is he?
I don't know, but he's wearing the Guards' uniform. I suggest we let him go and stay hidden. Mosel had never been much of a risk-taker.
But Straymos didn't want to deal with the Guards, either. They were a complication he didn't need right now, especially if the rumors of magic users on the force were true. He withdrew into the shadows and willed the Guard not to turn, or he'd spot him, skulking through the shadows behind the statues.
Straymos didn't want to wait, but he didn't have a choice because the door didn't open again, no matter how hard he glared at it. But it would open again. It must. Its occupants couldn't stay there forever. And I'll be waiting right here for them.
***
The bells of Mount Eredren announced each hour that passed as Straymos sat behind the statue, glaring at the door. He must have dozed off at some point because when he woke, he was stiff and cold. But the door finally opened.
A teenager with a rucksack slung over one shoulder exited the same flat the Guard had left. He leaned on a crutch as he hurried in the opposite direction.
He's not the mage, Mosel reminded him.
No, that teenager wasn't. "But he just left the flat Sarn had entered, right?" Straymos replayed his memory of that and rubbed his stiff leg. The doors to those two flats were close enough together that Sarn could have entered either one. Straymos hadn't been close enough to see which. "Damn it." He pounded a fist into his palm.
Calm down. He must leave sometime. We'll just wait until he does. But Mosel wasn't comfortable with that plan. His unease bled into Straymos. What will you do when you catch him?
Straymos ignored the question because he didn't want Sarn anymore. He wanted his sister. But she still hadn't appeared. Granted, they'd just found Sarn last night for the first time since meeting his sister, and he'd followed him in the hopes that Sarn would lead him to her. But Sarn had yet to appear. "Doesn't he need to light some damned crystals?"
He will. Just be patient. All the relighting must have exhausted him. Mosel said other things after that, all aimed at dissuading him from harming that mage.
But the old fool was wasting his breath. Sarn was just a means to an end. Straymos sat on the cold stone floor and waited like a cat for his mouse.
***
Can't wait to find out what happens next?
We'll be back next week with more!
---
---
Deals, Giveaways & Other Cool Stuff
---
---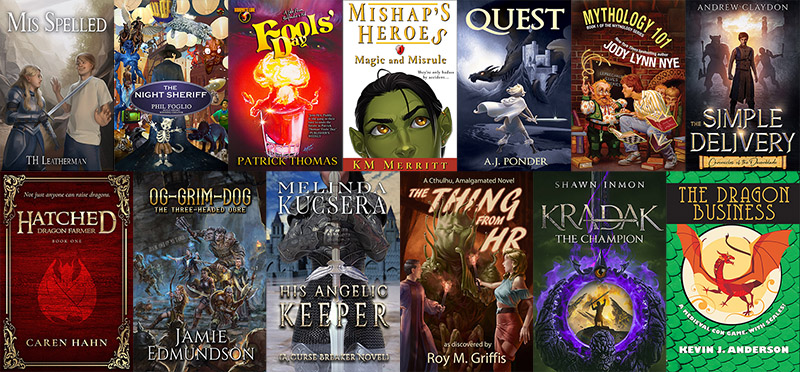 ---
---
In Case You Missed It
---
---